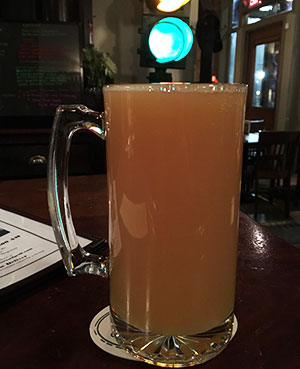 In a new experimental series, I'm going to bring you the Michigan beer of the month! I know, you're really excited right? Me too. I traveled all over the state to find the most influential, tastiest, and highly sought after beer. Okay, in reality I mostly just listened to people, trolled local party stores, and sampled extensively for journalism.
The first winner of the beer of the month (January 2017) edition is Old Nation Brewing: M43.
This is one of the best New England Style IPAs I've had that wasn't from the east coast. So thick and hazy, you're not going to see through this without X-Ray vision. Mosaic and Citra hops are very present that you get throughout the entire taste experience.
The only downside for this beer has been the ability to actually get it in cans. Can releases at their Williamston location don't last long, and some smaller distributions into the east side have gone quick as well. A surge of keg releases in the Ann Arbor area (Sidetracks, Wholefoods Washtenaw and Cultivate) have helped people gain access to this fantastic IPA.
If Boxer, the 2nd beer in their New Orthodox IPA series, is anywhere near as good as this, it's also going to be amazing. I'm currently accepting trade offers to make sure I get to taste some.
This month's runner up is Frootwood. A release from the Founder's backstage series, a very light and crisp cherry ale. Personally I was hoping for a bit more booziness, and more of the bourbon flavor imparted here. Looking forward to tasting again without any expectations and maybe letting a bottle sit and hoping it get's a little hotter.