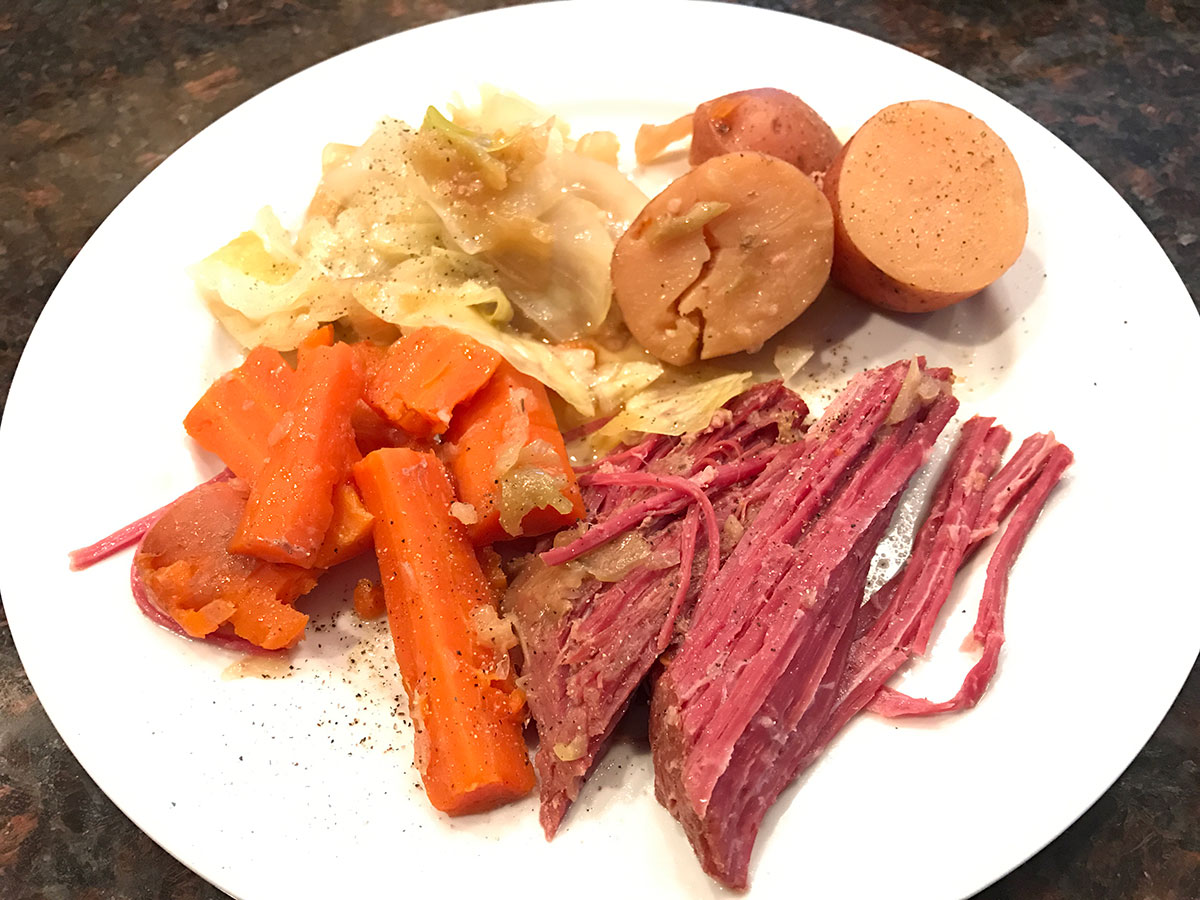 With the approaching holiday this Friday, I of course needed to re-make this awesome recipe. I followed the same directions, but used Newfangled Pale Ale, a beer brewed by North Peak Brewing Company, and sold exclusively at Busch's Fresh Food Markets. You can use any beer you like, but the hops do come through in the end. Basically don't use a beer you wouldn't drink.
[UPDATED – Following content originally posted on March 1, 2011]
Tis' almost St. Patty's Day and thus the perfect time to cook up a good Corned Beef and Cabbage Stew! But before we get started, what the heck is a corned beef anyway? In America, we think of this as a traditional Irish dish, but in Ireland, the meal is hardly eaten at all, even around holidays. Although it's not popular now, a long time ago it was an important food for all classes. It was thought to be brought over by Irish immigrants and turned into an Irish-American favorite.
The term corning means to preserve something with salt brine. Corn is the English term for a small particle. Before people had refrigerators, they had to corn their meat in order to keep it longer. It was customary to serve meat from the winter with fresh cabbage from the spring to eat on Easter, and thus we have the traditional dish Corned Beef and Cabbage.
I grew up eating Corned Beef and Cabbage and had never attempted to make it myself. I decided I wanted to try a bit different of an approach, and cook it in the slow cooker while I worked. I also of course wanted to add a secret ingredient: BEER!
The hardest part of the recipe turned out to be finding the dang corned beef! I bought most of the ingredients at Whole Foods, but couldn't find the beef. I sent my boyfriend out on a run, and he brought back 3lbs of deli meat. I wasn't very descriptive on what I needed, but it didn't go to waste as we made some tasty corned beef reubens. I then stopped by Kroger and found the only corned beef brisket at a mere 2 lbs. The butcher explained that they don't usually have many except around holidays.
With all the ingredients collected, I concocted a wonderful version of slow cooked corned beef and cabbage using Arcadia Nut Brown Ale. You can use just about any beer for this, I chose a brown for the malty aroma and caramel flavor.
Ingredients
3lb Corned Beef Brisket
1 onion
6 red skin potatoes
1 small head of cabbage
2 cups of baby or chopped carrots
1/2 teaspoon pepper
1 12oz beer
water
Step 1
Place the carrots, quartered potatoes, and chopped onions in the bottom of a slower cooker. Cut the brisket in half and place on top of the veggies with chopped cabbage, pepper and spice packet that comes with the brisket.
Step 2
Pour the beer over the meat and veggies, and then fill the empty beer bottle with water twice and add that in as well until the mixture is mostly covered in liquid. As the ingredients cook, they will shrink and be more submerged.
Step 3
Turn the slow cooker on low, and cook for 8-9 hours or until the meat and veggies are tender. Enjoy!